Machine Patchwork Classes

Our machine patchwork classes are designed to please both beginners and experienced quilters. Skill levels are indicated throughout. Sample quilts are for inspiration, color and fabric can be individually selected, the choice is yours.

* We provide unlimited tea and coffee (and afternoon tea) for class participants, but you will need to bring your own lunch.
Absolute Beginners! Free Class!

A free class designed for those who would love to make a quilt, but don't know where to start. Learn all the correct basic techniques of rotary cutting, machine piecing, including sewing accurate seams, pressing, quilt construction, layering, quilting and binding. These basic skills will allow you to progress to advanced designs with confidence. There is no tuition fee but you will need fabric, tools and sewing machine. A list of all requirements will be supplied when you enroll. Limited places available.

Sunday 11 & 25 July
9.30-3.30

Midnight Jewels
For those who love working with batiks this quilt can really make a statement ---- but there would be many fabric combinations that would be equally effective.

Sunday 8 August 9.30-3.30
$60

Wonky Stars
Another " stash buster ". A very easy and fast quilt to have a lot of fun making. Excellent to use scraps or fabrics lurking in your fabric stash waiting to be used. OR a color scheme purposely chosen. There are two designs to choose from.

Sunday 22 August 9.30-3.30
$60

Timeless Star
A very traditional pattern that would lend itself to the lovely new floral fabrics that are the new trend in home decor. This quilt is not complicated but has a big impact.

Sunday 5 September 9.30-3.30
$60

Starry Star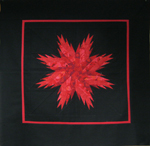 This wall hanging is foundation pieced, a technique often used to create very intricate patterns. Here is a chance to learn the basics of this technique.

Sunday 19 September 9.30-3.30
$60

UFO Days
Possibly our most popular day, the original and the best, a day to work on any project you want to finish, with assistance if you want it, and delicious afternoon tea, amongst friendly company.

Sunday 9.30-3.30 $25

1 August
29 August
26 September


IMPORTANT!
It is essential that you pay for your class or UFO day at the time of booking to secure your place. Two weeks notice of withdrawal is required to receive a refund of your class fee. (We understand that personal emergencies do arise from time to time and the circumstances will be taken into consideration at the time).